Processing units operate 24 hours per day, seven days a week, often for years at a time. "Shutdowns" or "turnarounds" are periods of intensive maintenance work that typically last a month or two.
<![if !vml]>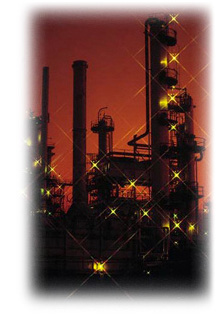 <![endif]>
Planned shutdowns are scheduled well in advance so that along with maintenance work, projects to improve reliability and environmental performance, or to increase production, can happen at the same time.

A number of CAER-member companies will be shutting down their operations for maintenance this spring, while others will wait until fall; another peak season for plant turnarounds. During the 2006 shutdown season, you will be able to find specific company schedules and information here on the CAER website.

Here are some things you should know about a shutdown:
Shutdowns require many workers; 500 to 1000

trades

people are not unusual. Prior to the shutdown, all workers complete training through the Industrial Education Cooperative, IEC, as well as company-specific training. This emphasis on safety makes Sarnia's manufacturing sector one of the safest in the world.

With the influx in people, an increase in traffic can be expected, particularly at the beginning and end of a shift. Specialized equipment including cranes and heavy machinery may also need to travel local roads. Companies work to control traffic by bussing workers from parking lots to the job site and providing extra traffic control.

Flaring also increases during turnarounds, typically at the beginning, when hydrocarbons are removed from the process units so that they can be worked on safely. Flare systems safely burn gases at an extremely high temperature, minimizing emissions to the atmosphere. Flaring may also increase as the units are started up.

Extra measures are taken to control

odours

that can be emitted when units are drained and steam-cleaned. The potential for noise and accidental releases also increases during turnarounds; so, extra monitoring is put in place. For example, the Sarnia Lambton Environmental Association's mobile-air monitor is often moved to a shutdown location to measure for chemicals at the plant's fence line.
Member companies of CAER will post information relevant to their shutdown activities on this site. See below for details:

---