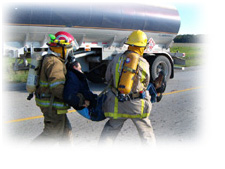 On a fall morning in October, 2005, a tanker truck loaded with ethanol from the Suncor Ethanol Facility collides with a south bound CN freight train at the crossing on Rokeby Line.

There is no derailment but there is damage to the tanker truck and to a tank car on the train containing Decyclopentaciene. Smoke is coming from the engine section of the tanker truck and a cloud can be seen drifting downwind from the tank car. The driver of the tanker truck is slouched over the steering wheel with unknown injuries.

A dramatic recreation of a potential disaster but preparing for just such an incident and responding to it in a timely, safe and professional way is a critical role to protecting public safety in Sarnia-Lambton.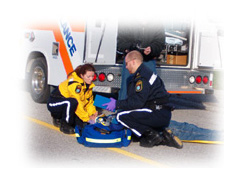 Fulfilling that role is the Chemical Valley Emergency Coordination Organization, CVECO.
Combining the resources of both municipal and industrial emergency response professionals, CVECO can mobilize significant response in the event of a major industrial incident or natural weather related disaster.

The annual Sarnia Area Disaster Simulation, SADS, exercise provides the opportunity for every aspect of our response to be tested and practiced to ensure response efforts will be effective in a real emergency.