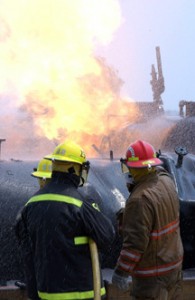 During some emergencies, it may be necessary to protect our citizens by evacuating the area impacted by the emergency. An emergency evacuation centre may be set up to provide shelter and food to people affected by the emergency. The nature, magnitude and location of the emergency will determine the evacuation routes to be used and what areas are affected. When you hear municipal emergency sirens or the interruption of local cable TV, you should tune into the local Sarnia-Lambton Radio stations for information and instructions:
PLEASE NOTE: When you hear sirens or local TV broadcasting interruptions other than Mondays at 12:30 noon you are directed to monitor your local Sarnia-Lambton radio stations for emergency instructions and for the most current information available. Stay tuned to these radio stations.
Do not evacuate unless instructed to do so by radio or Emergency Personnel. Exposure to chemicals could put you at risk, and unnecessary traffic could hamper emergency operations.
Listen carefully to evacuation instructions as they are broadcasted or provided to you by Emergency Personnel, and follow them exactly.
Click here to learn more about Sarnia's Emergency Notification Sirens